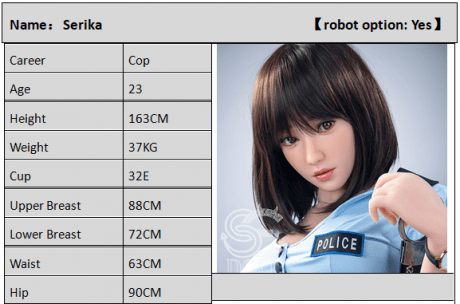 Serika didn't really think she could be a cop. People always think that such a beautiful girl should become a model or actress. But beauty was almost an accident for Serika. As a child, she was average- looking, but as an adult, she has grown more feminine and attractive. And sometimes sex and beauty helped her in her career.
Of course, she's a good cop. The problem that cannot be subdued by violence can be easily solved by gentleness. Handcuffs can keep an out-of-control person in check, and Serika must make sure the bad guy is in her hands. Guns don't fit her temperament, that just a gimmick for her. Serika knows you never need a knife or a gun to hurt a man. You just need to make him fall in love with you and then leave him.
Besides handcuffs and guns, gentleness is her secret weapon. For Serika, subduing the enemy is as maternal as taming a fiery lion cub. The dark interrogation room is full of danger and ambiguity, and in order to get you to tell the truth, she has her chips to trade with you. She has her unique means of punishing her enemies, which is to make you want her, but not to let you have her.
You'd better be as meek as a sheep, which is better for both sides. I can make sure you get what you want.
Please visit https://www.sedoll.com/product/sex-doll-sed109/ to see more photos of Serika.