The 163cm is the best-selling body from SEDOLL and is popular precisely because of its shape and quality. In particular the reality of the abdominal line, together with the chest size, the overall height and weight. Most of the time this body is paired with innocent and pure Japanese girls, this time we have ventured into this sultry and charming mature Asian woman, with the simplest of outfits and sets to create an extremely textured and high-quality TPE doll.
This head is currently available in two different styles of makeup. The look on the left is more understated and generous, with the main eyes shade of purple in the eyeshadow section, giving an overall impression of psychedelic elegance. The look on the right is more sultry and more high-key than the one on the left, with the main feature being the strong presence of the eyeshadow color.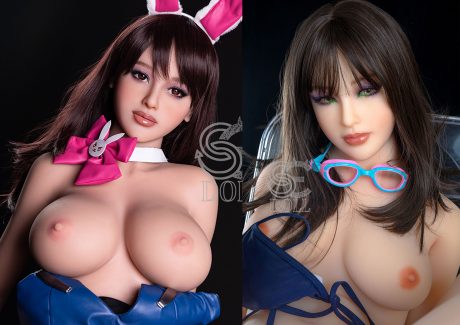 Although they are with the same head, they are done with different styles of makeup and so give a completely different first impression. One of our new products this week is the Edith pictured on the right. If you are interested in her body and makeup, you can see more photos of Edith.