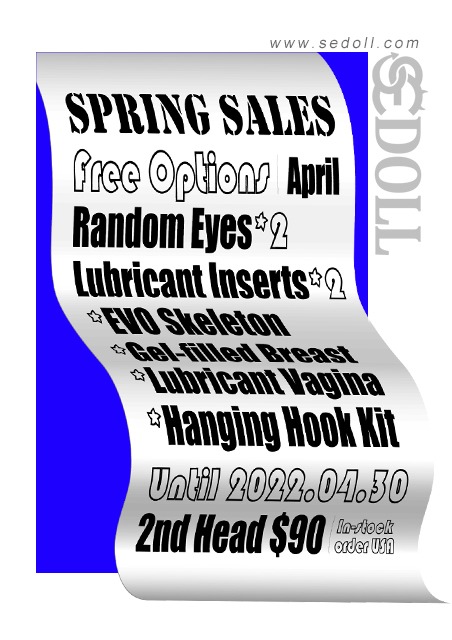 【Spring Sales】
Free EVO Skeleton Free Gel-filled Breast Free Lubricant Vagina Free Hanging Hook Kit Random Eyes*2 Lubricant Inserts*2 Plus, 2nd head only takes $90 (In-stock order USA)
SEDOLL has stepped up its promotion for the spring sale, also to give thanks to customers.
EVO skeleton, which gradually becomes the basic option, is available for more flexible and vivid poses to make the doll look more realistic. The gel-filled material provides the super-soft toughness for the breasts; the lubricant vagina enriches the great sexual experience; the hooks make it easy to store the doll; an extra pair of replacement eyes are included to allow sex dolls to experiment with more styles.
All free options above are available for all TPE sex dolls.
Extra single head flash sales, original price of $250 for a single head, now $90!