1. Hanging stand
When it comes to storing dolls, many people may put them flat in a box, whereas in reality unless your dolls can be stored under the bed, they will always present a nuisance in terms of taking up space anyway.
Or you can hang your doll in a wardrobe, which is a good way to go as it is also space-efficient, and this is cleaner and more hygienic than under the bed, and hanging in a wardrobe makes it easier to take out and use, without causing any stress to the doll itself. However, the requirements for the wardrobe are high and you need to have a wardrobe of the right height or you won't be able to hang it up.
The dolls can actually be stored without the case (to prevent squeezing the hips and causing deformation) or without the wardrobe. A special rack for hanging dolls that will solve your "awkward closet height problem".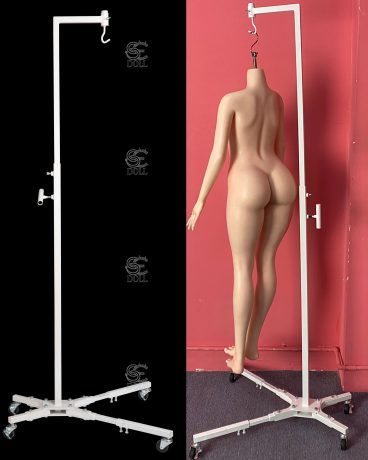 What are the features of this hanging stand?
Feature 1:
Rollers on the feet for easy movement.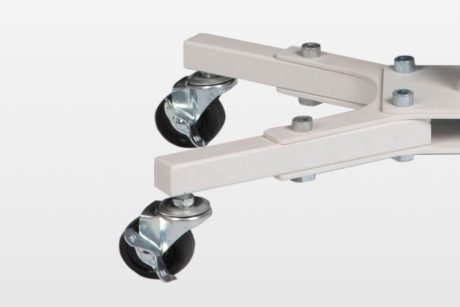 Feature 2:
It can be freely retracted to suit the height of the doll.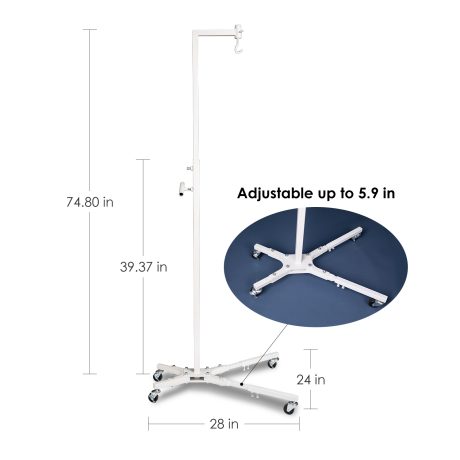 Feature 3:
The length of the legs can also be freely retracted to adapt to the weight of the doll.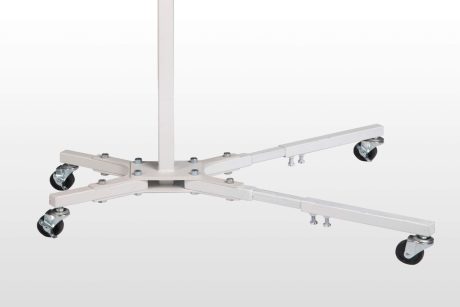 Sturdiness is a basic requirement for the hanging stand, with a load capacity of up to 80 kg, perfectly covering the weight of most sex dolls on the market.
Secondly, the hanging stand itself is designed to be lightweight, more doll hangers on the market have the disadvantage of being too heavy, whereas this hanging stand has a net weight of around 10kg when assembled, eliminating unnecessary design and making it the perfect combination of lightness and sturdiness in form and substance.
Check our for more about the hanging stand.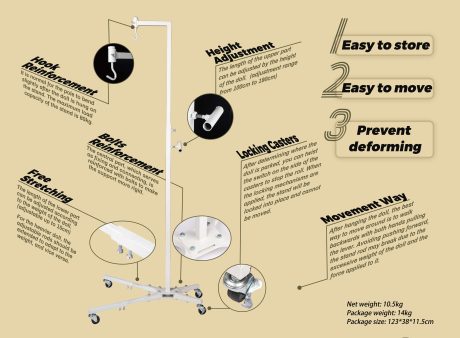 2. Head Stand(M16 compatible)
The headstand is a great way to store your doll's head. Especially if you have more than one head. You can't just leave the head lying around on a table or sofa, then the head will roll around and not only ruin the make-up and get the head dirty but also the rest of the furniture. The best way to store your head is with a headstand.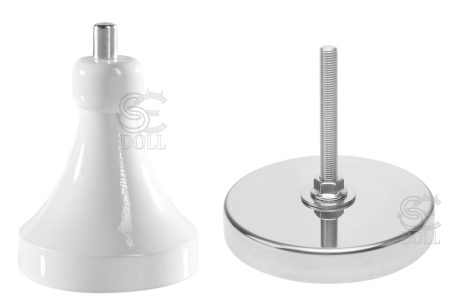 There are two main types of head support for storing your head. The first is the stand holder(normal simple version) and the second is the stainless stand holder(upgraded reinforced version). Both types of head support are suitable for use with the M16 screw connection.
The first type meets the basic head storage requirements and is small and light. The second type is more robust and stable and has a decorative effect when the head is mounted and the wig is worn. If conditions allow, for example, a wardrobe with sufficient space, it can also be placed in a wardrobe, which will ensure the hygiene and safety of the head.
3. Accessory kit (standard with SEDOLL)
SEDOLL accessory kit contains: USB heating rod+ Reusable drying stick+ Cleaning pump+ M16 push and fit head adaptor+ A comb+A pair of gloves+A set of clothes+ A wig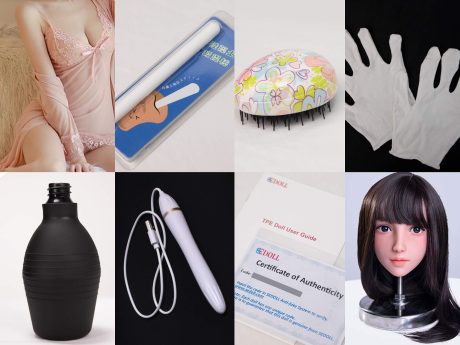 The SEDOLL accessory kit meets all the basic supplies for the doll buyer.
A heating rod for heating the doll's vagina, which is charged and heated using a USB port.
The cleaning pump for cleaning the vagina has been upgraded to a reinforced version for greater durability.
Drying stick: if the vagina is not kept dry after cleaning, bacteria can grow and endanger the health of the individual, the reusable drying stick protects the health of the doll and the buyer.
The M16 head connector can support multiple head replacements. The body is relatively large and tends to take up space in the house, but if there are heads you fancy you can shop around for more and give your doll any freedom to match. Choose an everyday Blondie-style girlfriend and try an Asian-style girlfriend once in a while.
Comb: SEDOLL provides a comb design more in line with the structure of the human hand, easy to grasp, and not easy to damage the wig.
Gloves: Basic gloves that are easy to use for any time you want to take care of your doll.
Clothes: A set of sexy lingerie comes as standard.
Wig: You can choose any wig you like
4. Suspension storage kit
It is probably best for both the doll and you if you have the right closet. Regardless of its size or weight, you may effortlessly hang your doll with the suspension storage hook kit. Hanging your doll is by far the most effective and cost-effective method of adequately storing your doll. You've probably seen how all the sex doll factories hang their dolls.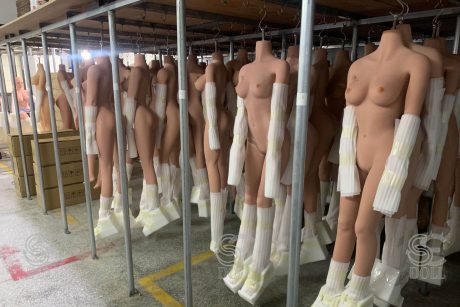 The suspension directly prevents the doll's body from being crushed and deformed. The Suspension hook kit is the easiest and most affordable storage accessory for dolls, whether you have one or more dolls.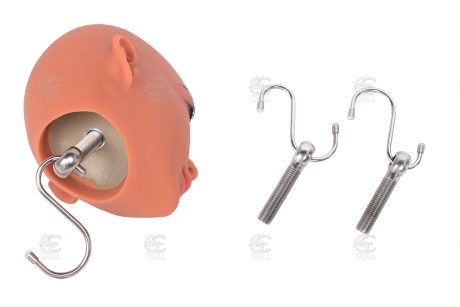 5. Care kit
The Care kit contains: Stain remover, Repair solvent, Nail glue, Makeup remover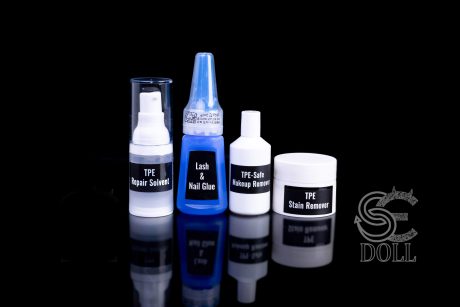 Stain remover is often used when the body is stained or has stains that are difficult to clean off, apply evenly to the stain and wait a few hours for the stain to remove itself.
Repair solvent is used for small cuts on dolls with open wounds. Apply drops of the liquid to the crack and then pinch the wound together with your hands, hold for a few minutes and the wound will recover.
Glue is used for peeling nails or eyelashes.
Makeup remover is used to wipe away stains or makeup.
6. Storage flight case
Usually, when it comes to storing dolls, most buyers will choose to store them lying down horizontally. A DOLL STORAGE CASE is a perfect option for storing dolls inside to protect them effectively. The best way to make use of space is to convert one of your pieces of furniture into a storage container for your sex dolls. If you have a bed with storage or space underneath, then you can purchase a sex doll storage box – try sliding it under the bed as it will otherwise take up space in the room. And, if you need to move, the storage case is great for protecting your personal privacy and easy to move.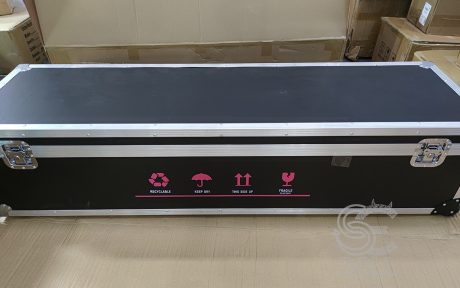 7. Silicone socks
Regarding daily maintenance, it is recommended to wash it every 2-4 weeks, which can extend the life cycle of the entity doll.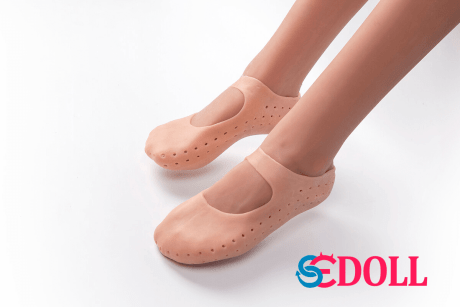 Another maintenance approach of the entity doll is very important. Silicone Socks are very effective and can make the feet of the sex dolls look more realistic. If you're in the habit of foot care, you'll love these socks! Let the entity doll wear these silicone socks, no longer afraid of feet will be dirty, but also make it more beautiful.
Contains: interchangeable wigs/eyes/cosmetics/clothes/nail pieces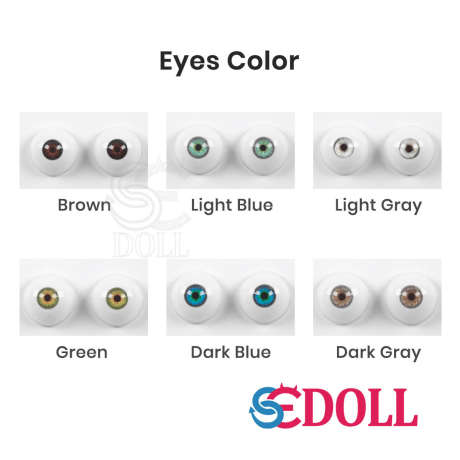 After owning the perfect sex doll, or even after placing an order for one, I'm sure the first thing many people do is shop for clothes for their beloved doll. The clothes can be purchased after the order is placed, but accessories such as wigs and eyes can be added to the shopping cart along with the doll. This saves a lot of hassle as you don't have to purchase them separately, and the wide range of eye and wig options offered by SEDOLL are of excellent quality and worth buying.
The doll's make-up will get lighter over time, so you can prepare powder make-up for touch-ups if needed, and nail pieces can be changed at will.
9. Removable vagina insert
If you choose to have a replaceable vagina, it is essential to have a few extra removable vagina inserts. The main reason most customers choose it is for ease of switching and cleaning. SEDOLL's removable insert comes with one as standard and it is generally more recommended to purchase 1 additional insert.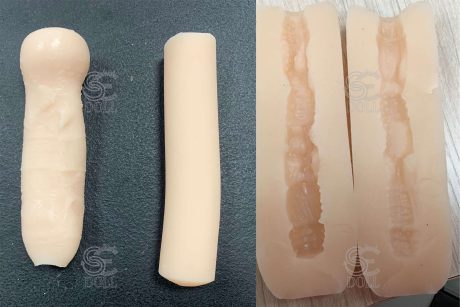 The inner side of the removable vagina insert is usually designed to be uneven, which increases friction during use and improves the feeling of use.
This option is for quick cleaning. When you are done, you take it out and go into the bathroom and turn it inside out and wash it in the sink. Then dry it with a towel and turn it back the way it was again. I would recommend keeping the insert out of your real doll when not in use. Only put it in her when you are about to have sex. Putting it in there can be a bit of a challenge since it barely fits. It's able to use water-based lube on the outside of the insert before you slide it inside of her.
Using the two inserts interchangeably allows for a better feeling when using the doll, as concentrating on using and cleaning one lower body channel will largely reduce its lifespan.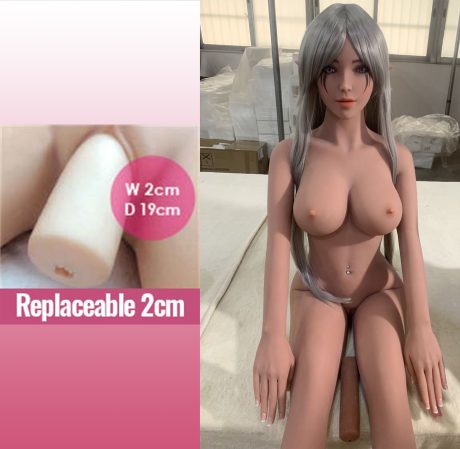 10. Hairnet
Hair nets go a long way to preventing the doll's head from being stained by the wig set. Experienced doll manufacturers usually choose flesh-colored hairnets, but if you shop for your own wig online, it can be difficult to guarantee that the hairnet is flesh-colored. Sometimes even with a flesh-colored hairnet, there is still a risk of staining if the wig is very dark and worn for a long time.
This is why a good quality hairnet is so essential. If the manufacturer does not offer a hairnet, ask if a wig with a flesh-colored hairnet is available. After all, no one wants a brand new head with stains all over it after taking off the wig.